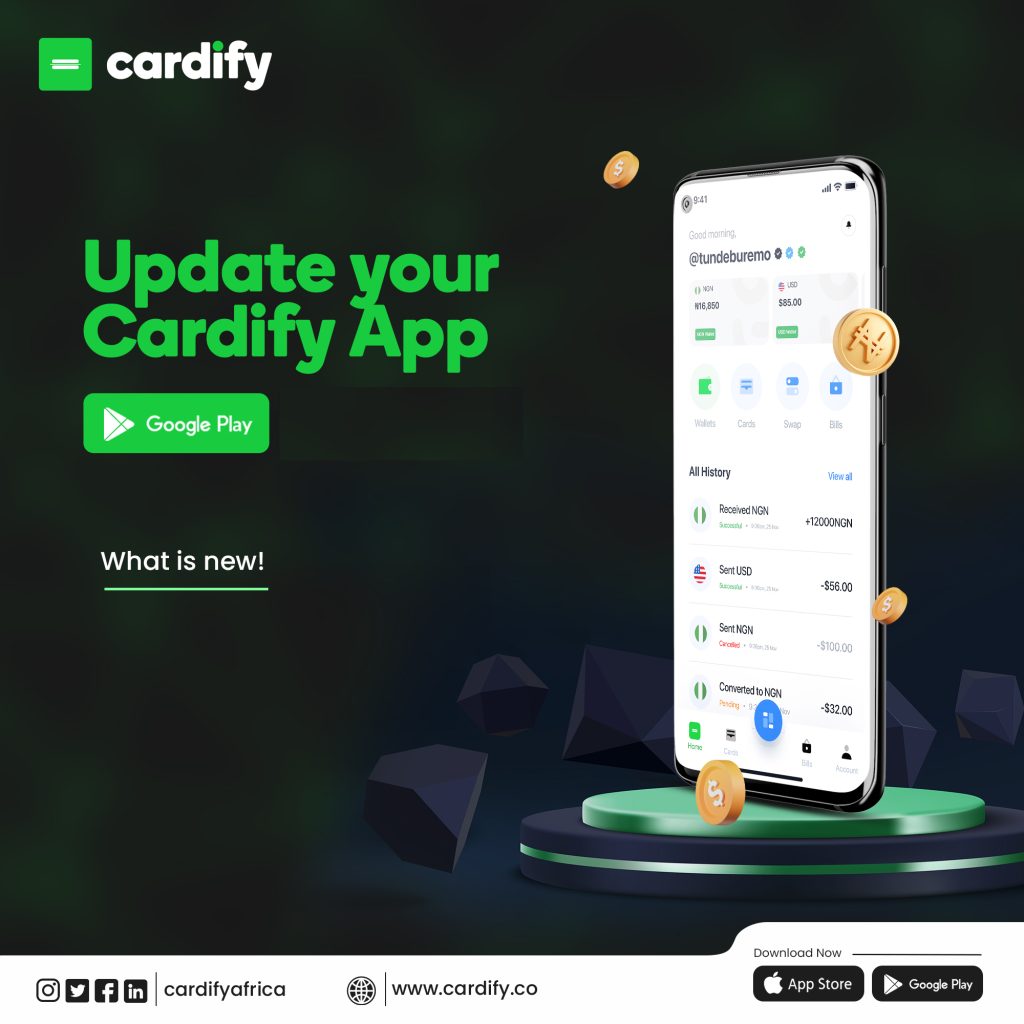 We're thrilled to introduce the latest upgrade to your favourite financial management app, Cardify V1.5. Packed with an array of new features and improvements, this update is designed to elevate your user experience to new heights. Let's dive into what's new:
Introducing the Voucher System
We're introducing the highly anticipated Voucher System, giving you access to a diverse range of vouchers. Whether you need to top up your electricity, airtime, or other essentials, the Voucher System has you covered. Say goodbye to the hassle of managing multiple accounts for different services; Cardify is now your one-stop solution for all your voucher needs.
Enhanced App Effectiveness and Efficiency
We understand the importance of a seamless user experience, which is why we've invested significant efforts in enhancing the app's performance. Cardify V1.5 promises a smoother and faster interface, allowing you to navigate through your financial transactions effortlessly. Spend less time waiting and more time managing your finances with our improved app's effectiveness and efficiency.
A Fresh Look
Prepare to be captivated by the revamped user interface. We've given the app a modern makeover, complete with a fresh design that is both visually appealing and user-friendly. Navigating your finances has never looked this good. Experience a sleek and intuitive interface that makes managing your money a delight.
Referral Feature Enhancement
We've taken our Referral Feature to the next level. Now, when you register with Cardify, you can easily credit the person who introduced you to the app. Sharing the love has never been easier, and with our enhanced referral system, you can reap even more rewards for bringing your friends and family into the Cardify community.
Manage Multiple Bank Accounts with Ease
Take control of your finances like never before. With the new and improved NGN Page, you can effortlessly view and manage multiple bank accounts. No more juggling between different platforms; Cardify streamlines the process, putting all your accounts at your fingertips.
Introducing New Electricity Providers
We've expanded our services to include three major electricity providers – IBEDC, IKEDC, and EKEDC. Now, you can conveniently purchase electricity directly through the Cardify app. Say goodbye to long queues and complicated processes. Cardify simplifies your utility payments, making your life easier.
Embrace the Future of Financial Management
Upgrade to Cardify V1.5 today and experience the evolution of financial management. Our commitment to innovation and user satisfaction drives us to continuously improve your Cardify experience. With the Voucher System, enhanced app performance, stylish UI, improved referral feature, multi-account management, and new electricity provider options, Cardify V1.5 is your passport to seamless and efficient financial transactions.
Don't miss out on the future of finance, update to Cardify V1.5 now and unlock a world of possibilities at your fingertips.
Download Cardify V1.5 now on the Google Play Store. Stay tuned for more exciting updates on our journey to redefine the way you manage your money.