Cardify and NACOS collaborate for Embrace Digital Innovation & Technology (EDIT'23) Summit at Lead City University.
Introduction:
Digital innovation and technology are transforming the world we live in, and staying ahead of the curve is essential for success in today's fast-paced environment. Recognizing the importance of embracing these advancements, Cardify, a digital wallet platform, which allows users to leverage their funds between various digital wallets, joined forces with the Nigeria Association of Computing Students (NACOS), South West Zone, to organize a groundbreaking summit.
The summit, titled "Embrace Digital Innovation and Technology (EDIT23)," took place from April 11th to 15th, 2023, at Lead City University in Ibadan. With an impressive lineup of speakers, panelists, and a diverse range of sponsors and partners, the event aimed to inspire and empower Nigerian Students in the field of technology.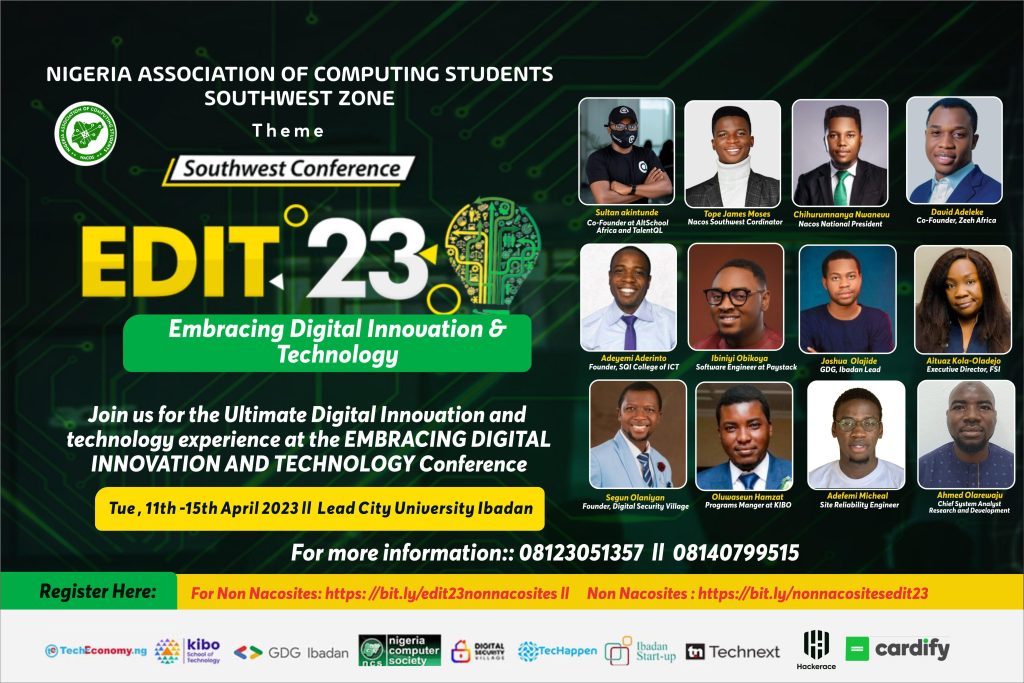 Chief Organizers:
Tope James Moses, the NACOS Southwest Coordinator, and Chihurumnanya Nwanevu, the NACOS National President, served as the chief organizer of the EDIT23 summit. Their vision, dedication, and leadership were instrumental in bringing together a multitude of students, professionals, and industry experts under one roof.
Distinguished Speakers:
The summit boasted an impressive lineup of speakers, representing various organizations and industries. Sultan Akintunde, the Co-Founder of AltSchool Africa and TalentQL, shared his expertise on leveraging technology for educational advancements. David Adeleke, Co-Founder of Zeeh Africa, captivated the audience with insights into the power of digital media and entrepreneurship. Ahmed Olarenwaju, Chief System Analyst at Research and Development, shed light on emerging trends in the tech industry. Adeyemi Aderinto, Founder of SQI College of ICT, inspired attendees with his entrepreneurial journey and the importance of skill development.
These speakers, along with many others, provided invaluable knowledge and guidance to the enthusiastic participants.
Sponsors and Partners:
The success of the EDIT23 summit was made possible through the support and collaboration of notable sponsors and partners.
Cardify Africa, a digital wallet platform at the forefront of digital payments, played a pivotal role in sponsoring the event. Other notable sponsors and partners included TechEconomy.ng, Kibo School of Technology, GDG Ibadan, Nigeria Computer Society, Digital Security Village, TecHappen, Ibadan Start-up Fest, Technext, and Hackrace. Their support demonstrated their commitment to fostering innovation and empowering the next generation of technology leaders.
Event Highlights:
Throughout the five-day summit, participants engaged in a wide range of activities designed to promote knowledge-sharing, skill development, and networking. The event featured keynote speeches, panel discussions, workshops, hackathons, and exhibitions. Attendees had the opportunity to explore emerging technologies, participate in hands-on workshops, and gain insights from industry experts.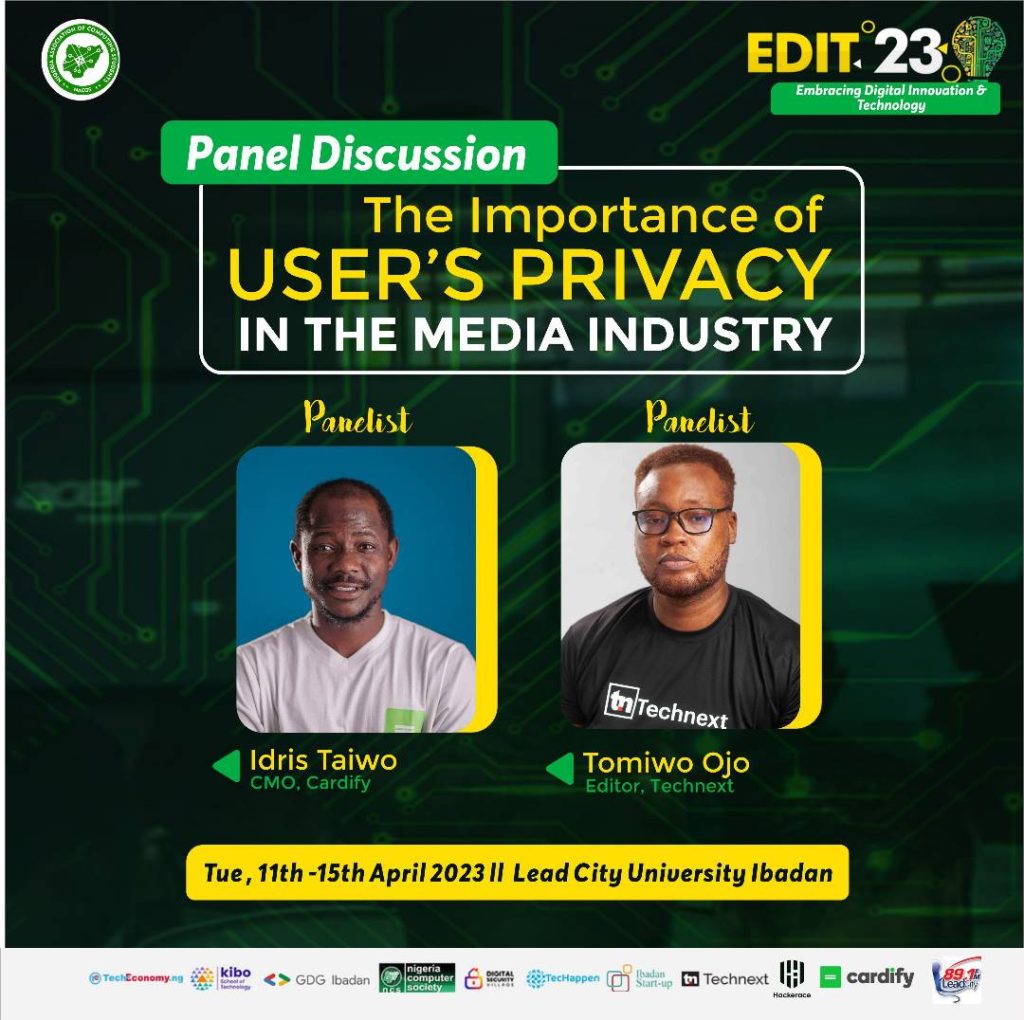 The summit served as a platform for students to showcase their innovative projects and connect with professionals in the field, fostering collaboration and mentorship opportunities. Asides from speaking as a panelist on The Importance of User Privacy in the Media Industry, The CMO of Cardify Mr. Idris Taiwo was also given the opportunity to enlighten the audience on what Cardify is all about and the benefits of being a Cardify user.
Conclusion:
The EDIT23 summit organized by NACOS South West Zone, was a resounding success. The event provided a platform for Nigerian Computer Science students and technology enthusiasts to immerse themselves in the networking world of digital innovation and technology. By bringing together prominent speakers, industry leaders, and aspiring students, the summit fostered a spirit of learning, collaboration, and inspiration to do more in the technology industry.
As technology continues to shape our world, initiatives like EDIT23 are instrumental in equipping young minds with the skills, knowledge, and network necessary to thrive in the digital age.

Catch a glimpse of Cardify's Past Events