Cardify Africa takes center stage at the Lagos Startup Expo, as the ultimate provider of virtual dollar cards and digital wallets in Nigeria
We are delighted to share the notable achievement of Cardify Africa and it's outstanding participation at the recently concluded Lagos Startup Expo. In this comprehensive post, Cardify Africa will take you on a journey through the event highlights; from showcasing the groundbreaking Cardify system, to exhibiting collaborative efforts with co-sponsors, achieved milestones and the significance of our participation in shaping the future of finance.
Pushing Boundaries: Showcasing Cardify's Groundbreaking System
At the Lagos Startup Expo, we had the opportunity to showcase our cutting-edge digital payment system. Through live demonstrations and engaging interactions, we captivated the audience, unveiling the power and potential of our innovative solutions. Attendees experienced a transformative way of conducting digital payments, leaving an indelible impression on their minds. Our commitment to pushing boundaries and revolutionizing the payment landscape was appreciable throughout the event.
Cardify Celebrates Collaborative Success: Acknowledging Our Fellow Sponsors
We extend our heartfelt appreciation to our fellow sponsors who contributed to the success of the Lagos Startup Expo. Together with Techpoint Africa, AltSchool Africa, Cardtonic Technologies LTD., Grey (YC W22), Raknida, Maplerad, OctaFX, TalentQL (Techstars '21), and Prembly. We formed a powerful tech ecosystem with like-minded organizations. This collective endeavor focused of driving change and innovation, played a pivotal role in making the event a resounding success.
Looking Ahead: Milestones Achieved and Future Goals
Our participation at the Lagos Startup Expo marked a significant milestone in our journey of transforming the digital payment landscape. The positive response from event attendees reaffirmed the relevance and effectiveness of our Cardify system. This success fuels our vision for the future as we strive to revolutionize further the way businesses operate and flourish. With ambitious goals and a drive to build upon our achievements, we are well-positioned to create a lasting impact on the financial landscape.
Event Highlights
The Lagos Startup Expo was an electrifying and inspiring event that brought together visionaries, investors, and tech enthusiasts under one roof. We seized this opportunity to gain invaluable exposure and engage with a diverse audience. The event served as a catalyst for entrepreneurs, igniting a spark of inspiration to leverage cutting-edge solutions and transform their businesses.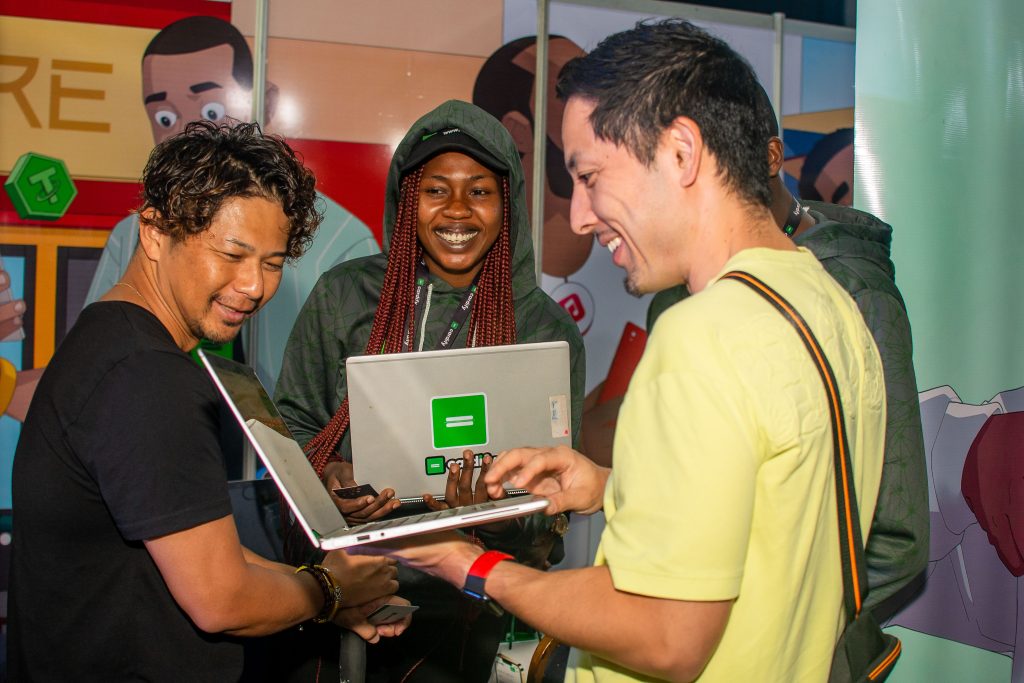 In conclusion, Cardify's remarkable success at the Lagos Startup Expo signifies not only our achievements but also our unwavering dedication to driving change and shaping the future of finance. By showcasing our groundbreaking system, acknowledging our fellow sponsors, and setting ambitious goals, we have proven our commitment to revolutionizing the digital payment landscape.

The event served as a platform for tech enthusiasts to explore innovative products, encouraging them to embrace the limitless possibilities of technology and the innovative solutions offered by Cardify Africa.

We extend a special appreciation to the organizers, facilitators and fellow sponsors for making the event a huge success.

Together, let's unlock a world of possibilities, redefine digital payments, and empower users and businesses across Africa and beyond with the limitless features of Cardify.
Catch a glimpse of Cardify's Past Events.