Cardify Africa: The Ultimate Solution for Virtual Dollar Cards and Digital Wallets in Nigeria Sponsors Lagos Startup Expo by Techpoint
Lagos, Nigeria – May 15, 2023 – Cardify Africa.
The leading digital wallet platform, is proud to announce its sponsorship of the Lagos Startup Expo organized by Techpoint Africa. The event, which will take place on May 20th, 2023, at the Landmark Event Centre in Lagos, promises to be a gathering of innovative minds in the fintech space, providing an opportunity for networking, product showcases, and industry insights.
Techpoint Africa, a renowned technology media platform, recently announced the Lagos Startup Expo on their official Twitter account.
As a sponsor of this premier event for entrepreneurs, investors, and tech enthusiasts, Cardify Africa aims to engage with forward-thinking individuals and showcase the capabilities of the Cardify system.
Why Sponsor This Techpoint Event?
The mission of the Lagos Startup Expo aligns perfectly with Cardify Africa's objective of providing a seamless digital experience for Nigerians and Africans. Through its suite of offerings, Cardify Africa enables users to leverage their funds between various digital wallets, making spending across different fiat and digital currency wallets as easy and efficient as possible.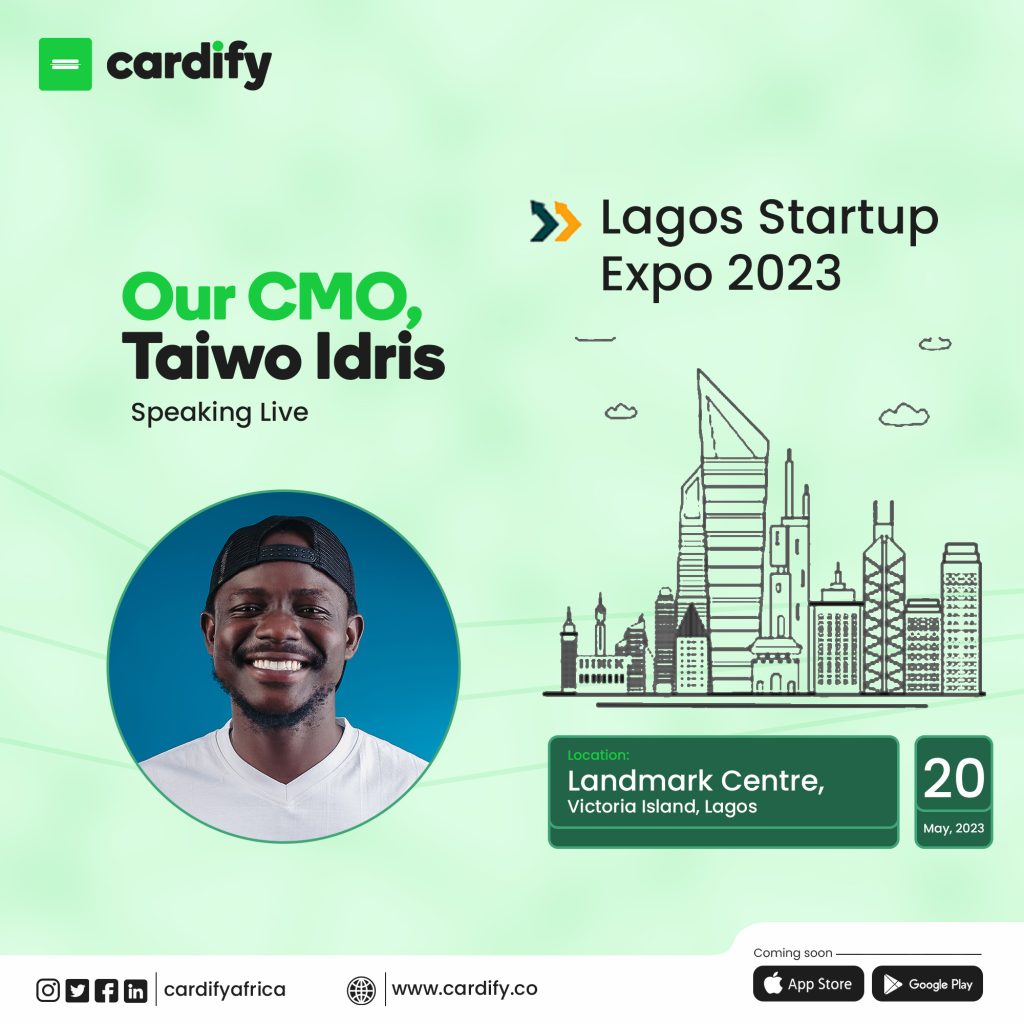 "We are thrilled to sponsor the Lagos Startup Expo and connect with the vibrant startup ecosystem in Lagos," said Tunde Buremo, CEO of Cardify Africa. "At Cardify, we believe in empowering individuals with flexible and efficient financial solutions. This event presents a fantastic opportunity to engage with innovative minds and showcase the benefits of the Cardify system."
Cardify Africa's range of systems and services includes:
Cardify Wallets: Users can deposit and withdraw funds across NGN, USD, and GBP wallets seamlessly, facilitating cross-currency transactions.
Cardify Virtual Cards: The virtual card system empowers Cardify Africa users to generate virtual debit cards, enabling frictionless spending in international online checkouts where debit cards are accepted. The platform currently offers two types of cards: the basic dollar card (Mastercard) and the standard dollar card (Visa).
Cardify Swap: Users can convert various currency pairs at the best market rates through the Cardify Africa swap system, ensuring efficient and cost-effective currency exchanges.
Cardify Bills: The bills system allows users to purchase mobile top-ups, vouchers, and tickets using their Cardify NGN and USD wallets, providing convenience and accessibility.
Cardify Africa looks forward to engaging with attendees at the Lagos Startup Expo, demonstrating the power and versatility of its digital wallet platform. Whether you are an entrepreneur, investor, or tech enthusiast, this event promises to be an excellent opportunity to connect with top startups, witness innovative products, and stay updated on the latest industry trends.
For media inquiries, please contact us at:
support@cardify.co
About Cardify Africa:
Cardify Africa is a leading digital wallet platform that enables users to seamlessly leverage funds between various digital wallets. With a focus on flexibility and efficiency, Cardify Africa empowers individuals to deposit and withdraw money across NGN, USD, and GBP wallets, issue virtual cards for frictionless spending, facilitate currency swaps, and purchase mobile top-ups, vouchers, and tickets. The platform aims to provide a seamless digital experience for Nigerians and Africans, revolutionizing the way they manage their finances.
Catch a glimpse of Cardify's Past Events