Cardify Africa
With the rapid advancement of technology, streaming music online has become incredibly popular. Nowadays, it's much easier to enjoy your favorite songs by streaming them online instead of going through the hassle of downloading and storing them on external devices. However, it's important to note that most streaming platforms, including Spotify, require users to have a subscription plan in order to access their vast music collections. Unfortunately, the Nigerian government recently imposed a ban on using Naira cards for payments on international platforms, posing a significant challenge for Nigerian users who relied on their cards to pay for their Spotify subscriptions. Luckily, there is a solution: the Cardify Virtual dollar Card. By utilizing Cardify's virtual dollar card feature, users can effortlessly make online payments on any international platform with just a simple tap.
This article aims to guide you through the process of subscribing to Spotify in Nigeria using the convenient Cardify Virtual dollar Card. Let's dive in and get started.

What is Cardify?
Cardify is a digital wallet platform that allows users to leverage their funds between various digital wallets. Cardify aims to make spending across various fiat and digital currency wallets as seamless as possible. The brand's core values revolve around the cardinals of flexibility and efficiency. Users of Cardify can deposit money into a variety of popularly used wallets while making use of the flexible conversional advantages of those wallets within and outside the system. In a similar vein, the cardify platform also issues virtual cards to facilitate frictionless spending directly from the it's wallets.
How does the Cardify Virtual dollar Card work?
To access the Cardify Virtual dollar Cards, you'll need to download the mobile app and create an account.
Follow the following steps to get a virtual dollar card on Cardify:
Download the app from Google Play Store.
✅Create an account.
✅Verify your account
✅Enter all your information on the app.
✅Verify your BVN
✅Turn on your 2FA
✅Click on the cards button to create a card.
✅Click on "create card" on the card page, then select your wallet to make payment.
✅Once payment is successful, click "Continue" to see your new virtual card.
Once you get your virtual card, you can make subscription payments on any music platform, including like Youtube music premium and so on.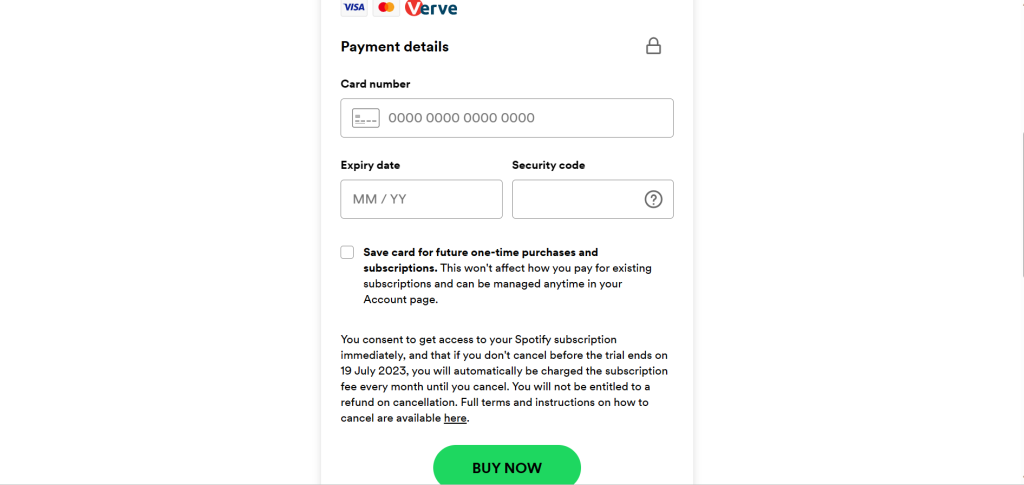 Once you've successfully created your virtual dollar card, subscribing to Spotify becomes easier. Just enter your card details on the Spotify payment page, and you're good to go!
Cardify is a dependable and user-friendly platform that aims to alleviate all your financial concerns. The best part is, it truly lives up to its promises. You can bid farewell to any worries about making payments on international platforms because Cardify takes care of it effortlessly on your behalf.
We're confident that you wouldn't want to miss out on this exciting opportunity. Download the Cardify mobile app from the Google Play Store today and never worry about losing access to your favorite streaming platform again.