To earn cashback on Cardify Africa, you can take advantage of various features and activities on the platform. Here's how you can earn cashback:
Cardify by Bills: When you pay bills using NGN or USDT, you earn cashback. The percentage of cashback varies based on the type of bill you pay. The cashback amount is credited to your cashback wallet, which can be withdrawn in fiat currency up to a cap (currently 2500NGN). Please note that cashback is capped at a certain amount, and if it exceeds the cap, it will be rounded up to the maximum cashback amount for that transaction.
Cashback by Referrals: By referring friends to Cardify, you can earn cashback. When someone uses your referral code or enters your username during registration, they become your referral. To track your referred users, go to "Settings" and then "Cashback & Referrals" and access the "Referral History" page. It's important to note that you will only receive the referral bonus if your referred user verifies their account up to at least Level 2.
Cashback by Swap: Whenever you perform a swap on Cardify, you earn cashback. The cashback percentage varies depending on the currency pair you are swapping.
To access your cashback information and history, follow these steps:
Open the Cardify Africa app.
Click on "Account" to access your account settings.
Select "Cashback and Referrals."
From there, you can navigate between your referral page and your cashback history.
By engaging in bill payments, referring friends, and performing swaps on Cardify, you can continue earning cashback rewards. Keep in mind that cashback percentages and terms may be subject to change, so it's recommended to stay updated with the latest information. NB: you can also load a promo code easily from the "Enter Promo Code" click.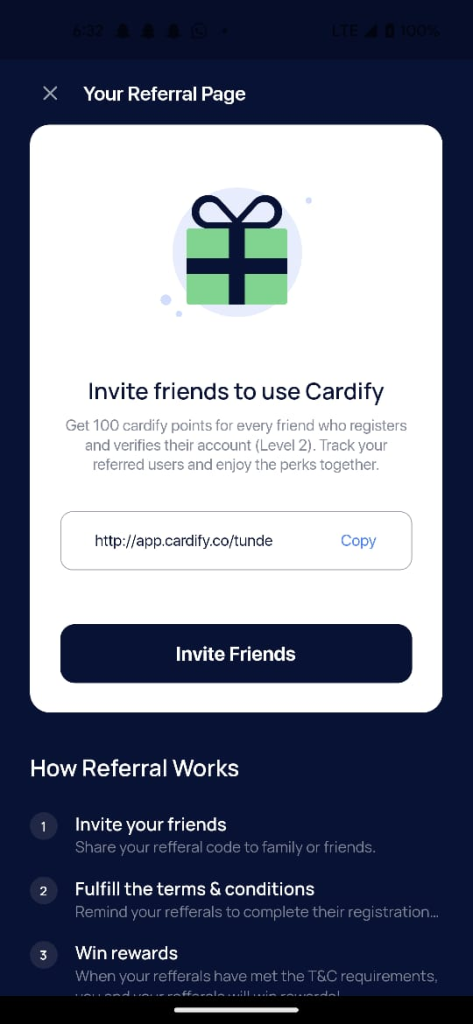 Cardify Africa offers a range of services, including Cardify Wallets, Cardify Virtual Cards, Cardify Swap, and Cardify Bills. These services enable users to manage their funds, create virtual debit cards, convert currencies, and make convenient payments within the platform.
Experience the flexibility, efficiency, and cashback benefits provided by Cardify Africa as you explore the world of digital wallets.