Two-Factor Authentication (2FA) adds an extra layer of security to your Cardify Africa account. It is a Level 2 requirement to ensure the protection of your funds and personal information. Cardify offers two methods for 2FA: 2FA with email and 2FA with a two-factor authenticator app like Authy or Google Authenticator. Follow these steps to set up and use 2FA on Cardify Africa:
On the App:
Open the Cardify Africa app on your mobile device.
Go to your account settings by navigating to the "Account" section.
Click on "KYC Verification."
If you have already completed Level 1 requirements, the Level 1 section should be marked as complete.
Proceed to select "Level 2" and choose the preferred 2FA method: "KYC by Email" or "KYC by Authenticator App."
If you choose "KYC by Email," enter your email address associated with your Cardify Africa account. You will receive an email for verification purposes whenever a transaction needs to be validated.
If you choose "KYC by Authenticator App," download and install a two-factor authentication app like Authy or Google Authenticator on your device. Follow the app's instructions to set it up.
Once you have selected and set up your preferred 2FA method, the Level 2 section will be marked as complete.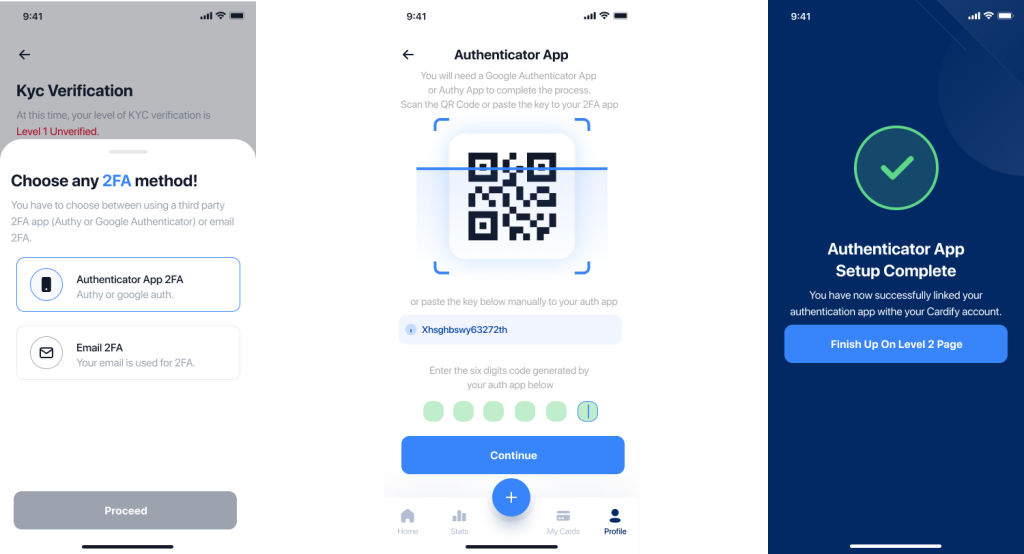 On Selecting Authenticator
After selecting authenticator, you need to download either the authy app or google authenticator, then scan the QR code or enter the manual code below the QR code, after doing that, your authenticator generates a six digits code, proceed to enter and click continue. If correct, your authenticator app will be connected automatically. That way, you can always use the code on the authentication app to validate transactions.
On Selecting Email
An email is sent to your email, all you have to do is enter the seven digit code on the app/web to get your 2fa method registered. You will always get an email on validation of transactions if this method is opted for.
By setting up and using 2FA, you add an extra layer of security to your Cardify Africa account, ensuring that only authorised individuals can access and perform transactions on your behalf.
Cardify Africa provides a range of services, including Cardify Wallets, Cardify Virtual Cards, Cardify Swap, and Cardify Bills. These features allow users to manage their funds, create virtual debit cards, convert currencies, and make payments conveniently within the platform.
Protect your Cardify Africa account by utilizing the 2FA feature and enjoy the flexibility and efficiency that Cardify offers in the world of digital wallets.